Sunday, April 22, 2012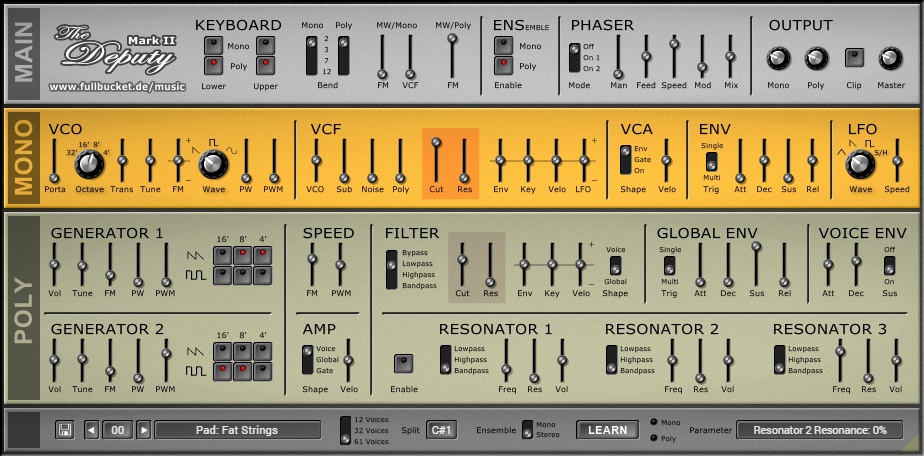 The
deputy Mark II
is a VST™2.4 software instrument for Microsoft Windows
®
in the tradition of classic string machines and early "polyphonic" synthesizers, written in native C++ code for high performance. The main features are:
Polyphonic string/synthesizer (Poly) section and monophonic synthesizer (Mono) section
Built-in Ensemble and Phaser effects
Flexible keyboard assignment for Poly and Mono section
Poly section:

Up to 61 voices polyphony
Two band-limited frequency divider-driven oscillator banks
Sawtooth and PWM waveforms
2-pole multi-mode filter and ADS envelope per voice
Global ADSR envelope for paraphonic modulation
Resonator bank (3 zero-delay feedback filters)

Mono section:

Single VCO plus suboscillator and noise
4-pole zero-delay feedback lowpass filter
ADSR envelope and LFO
Output of Poly section can be send to filter input

Fully compatible with SM Pro Audio's V-Machine™
On the track
"deputy"
, the
deputy Mark II
is the only audio source (plus some delay, reverb and slight compression).


Posted by

Jont
at 11:14 PM
No comments:


Links to this post
Get this awesome instrument for free today!
UVI Analogic Piano 09 takes inspiration from the very first electronic piano ever designed with a built-in arpeggiator: the famous Roland EP-09.
Description
This "cheezy" instrument was sampled and modeled to capture the pure soul of the analog texture. Sounds were carefully recorded with the very best digital gear and analog tools, complying with UVI high-quality standards.
• • • • • Tones • • • • •
Analogic Piano 09 offers four types of tones:
• Piano I: soft piano tone
• Piano II: hard piano tone
• Harpsichord I: regular harpsichord tone
• Harpsichord II: bright harpsichord tone
Several tones can be activated at the same time to create various combinations (up to 15).
• • • • • Arpeggiator • • • • •
The arpeggiator included takes up all features from the one in the original machine:
• different modes (up | down | up & down)
• a range selector (1, 2, or 3 octaves)
• rate
• keyboard split
• • • • • Speaker • • • • •
The tiny 2-watts output speaker is emulated thanks to the convolution engine.
• • • • • Sounding effects • • • • •
In order to enhance sounds from this instrument, 3 sounding effects were added:
• a more than juicy Chorus • a deep and large Delay • a professional Reverb •
• • • • • Main features • • • • •
• 4 layers (Piano I & II, Harpsichord I & II)
• 488 samples
• Round robin by note
• Sustain control
• Accurate arpeggiator from the original machine
• Keyboard split
• 2-watts output-speaker emulated with convolution engine.
• 3 effects : Chorus, Delay & Reverb
______________________________________________________________________________________
Compatible with everything
Thanks to the free UVI Workstation 2.0.4 (mandatory version), Analogic Piano 09 can work:
• as a stand-alone instrument, compatible with Mac & PC
• as a VST, AudioUnit, RTAS and MAS plug-in.
Thanks to MachFive 3 – make the most of all the editing features offered!
______________________________________________________________________________________
How to download
To get your Analogic Piano 09 for free, follow these steps:
• Click
here
• "Like" the page
• Enter your e-mail address
• A download link will be sent to your e-mail within a few minutes.
Don't forget to tell your friends about this UVI free gift!
______________________________________________________________________________________
How to install
1. Download & install
the latest version 2.0.4 of UVI Workstation
• for
Mac OS X
• for
Windows
• for
Windows (x64)
2. Click the link
sent to your email to download UVI Analogic Piano 09
3. Unzip
the .zip file that contains:
• UVI AP-09.ufs
• UVI AP-09 User Guide.pdf
4. Drag & drop
the downloaded UVI AP-09.ufs into the following folder:
• under Mac OS X
[your startup disk]/Library/ApplicationSupport/UVISoundBanks/….
• under Windows
C:\Program Files\UVISoundBanks/…
OR
C:\Program Files (x86)\UVISoundBanks/…
Posted by

Jont
at 11:12 PM
3 comments:


Links to this post
Saturday, April 21, 2012
Havent tried this yet but from the reviews this seems to be a really good one. Enjoy


Posted by

Jont
at 5:42 PM
2 comments:


Links to this post